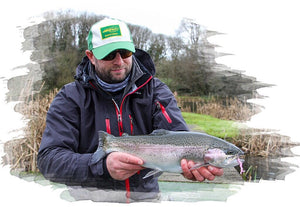 It's been another exciting year here at FNF as we have continued to develop new materials for the fly fishing world. Our new Jelly fritz has continued to be a favourite with a lot of the top competition anglers in the country, I myself have rarely ventured out without it this season. The popularity of Daphnia and Bush Baby fritz has also started to take of as anglers find time to experiment with the material and with the cold weather pushing in the Chewing Gum range is really coming into its own. It has been nice to see the growth...
---
With the season well under way now its been very interesting the watch the development of our FNF products. The prediction that Jelly fritz would keep its good form going from the small still waters to the large reservoirs has been accurate. So far this year FNF jelly has contributed to the winning of two national competitions  and heavily featured in the top teams fishing the Sportfish Championship. The winners have kept specific patterns close the their chest however were kind enough to contact me regarding the successful use of FNF jelly blobs/FAB's/Boobies. I know several large club teams are...
---
During the closed season it has been great to watch the development of our materials on the small still water scene. We always knew FNF Jelly was going to be popular but its blown us away how the fishing community have enjoyed the material. We received great reports of catches on anglers local waters, usually on the brighter colours. Andy Taylor went on to win a major bank competition at Ellerdine lakes using a Rutland Red/Shocking Pink mix blob and cormorants. I guess the true test and what we were all looking forward to was the opening of the large...